Haz clic aquí para leer la versión español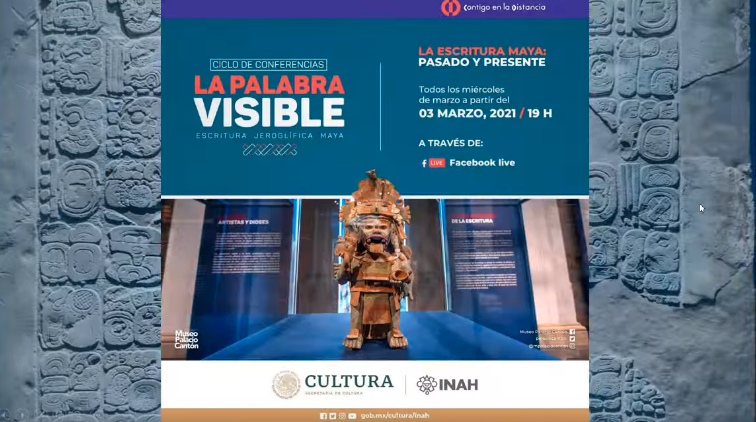 Happy New Year! Today is 11 Ak'bal 1 Pop and we decided to wait until today to post this month's blog. Spring has arrived, and a new day is dawning, with hope on the horizon that we will finally end this pandemic. I was fortunate to be able to receive my second dose of the vaccine, which became available to educators last month, and it is seeing vastly increasing distribution in the United States, where 148 million people so far have at least received one dose, which is 45% of the population. By comparison, in Mexico, 6 million people have received at least one dose, which is only about 5% of their population. In Belize, about 20,000 people have received one dose, which is also 5% of their population. In Guatemala, some 98,000 people have received one dose, which is only 0.59% or their population. We hope that equitable vaccine distribution will greatly expand in the near future for our friends and family around the world. It cannot come soon enough.
Given the unknown time frame for vaccine distribution, and the current restrictions on public gathering, we do not yet know when it will be safe to continue with face-to-face classes and conferences. Even with increased vaccine distribution, in my own school district, we have already decided to keep our campus closed this fall, due to the inability to know whether our students will be fully vaccinated by that time.
We are adapting to these ongoing circumstances, and there has been a great increase in the availability of online learning using platforms like Zoom. MAM would like to support and encourage the creation and distribution of online learning, which we hope to implement soon. As an example, this month, I would like to call attention to the wonderful presentation given by Archaeologist Memo Kantún for the Museo Palacio Canton in Mérida, Yucatan earlier in March. This was the first online conference of its kind for the Museo Palacio Canton, and it serves as an inspiration for other educators who would like to reach a wide audience by recording presentations like this in Spanish, English, or in various Mayan languages. This was not a conference supported by MAM, but we are very interested in housing presentations like this on our website in the future. Stay tuned for more coming soon!
I hope you all are staying safe, and that we will all be able to finally see one another in the near future. In the meantime, we hope to take advantage of the current technology to continue our important work.
Yum Bo'otik,
Michael Grofe, President
MAM
---
versión español
11 Ak'bal 1 Pop (1 de abril, 2021): La Palabra Visible: Presentando la escritura maya en línea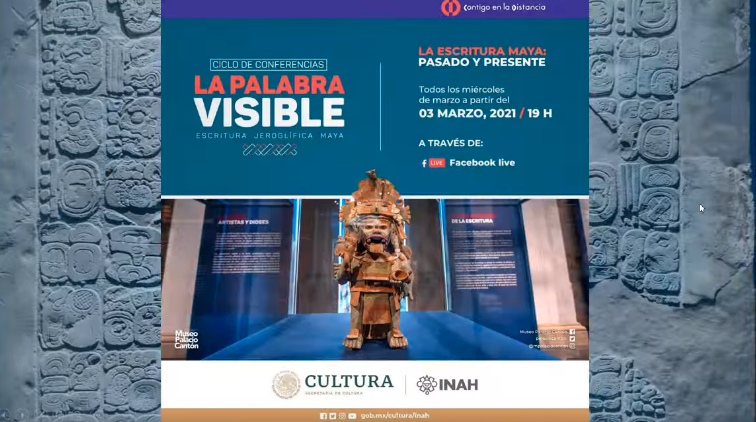 ¡Feliz Año Nuevo! Hoy es 11 Ak'bal 1 Pop y decidimos esperar hasta hoy para publicar el blog de este mes. Ha llegado la primavera y amanece un nuevo día, con la esperanza en el horizonte de que finalmente acabemos con esta pandemia. Tuve la suerte de poder recibir mi segunda dosis de la vacuna, que estuvo disponible para los educadores el mes pasado, y su distribución está aumentando enormemente en los Estados Unidos, donde 148 millones de personas hasta ahora han recibido al menos una dosis, que es 45% de la población. En comparación, en México, 6 millones de personas han recibido al menos una dosis, que es solo alrededor del 5% de su población. En Belice, unas 20.000 personas han recibido una dosis, lo que también representa el 5% de su población. En Guatemala, unas 98.000 personas han recibido una dosis, que es solo el 0,59% de su población. Esperamos que la distribución equitativa de vacunas se amplíe enormemente en un futuro próximo para nuestros amigos y familiares en todo el mundo. No puede llegar lo suficientemente pronto.
Dado el marco de tiempo desconocido para la distribución de la vacuna y las restricciones actuales sobre las reuniones públicas, aún no sabemos cuándo será seguro continuar con las clases y conferencias cara a cara. Incluso con una mayor distribución de vacunas, en mi propio distrito escolar, ya hemos decidido mantener nuestro campus cerrado este otoño, debido a la incapacidad de saber si nuestros estudiantes estarán completamente vacunados para ese momento.
Nos estamos adaptando a estas circunstancias actuales y ha habido un gran aumento en la disponibilidad de aprendizaje en línea utilizando plataformas como Zoom. MAM desea apoyar y fomentar la creación y distribución de aprendizaje en línea, que esperamos implementar pronto. Como ejemplo, este mes me gustaría llamar la atención sobre la maravillosa presentación que dio el arqueólogo Memo Kantún para el Museo Palacio Cantón en Mérida, Yucatán, a principios de marzo. Esta fue la primera conferencia en línea de este tipo para el Museo Palacio Cantón, y sirve de inspiración para otros educadores que deseen llegar a una amplia audiencia grabando presentaciones como esta en español, inglés, o en varios idiomas mayas. Esta no fue una conferencia apoyada por MAM, pero estamos muy interesados en presentaciones de vivienda como esta en nuestro sitio web en el futuro. Mantente sintonizado para más, próximamente.
Espero que todos estén a salvo y que todos podamos finalmente vernos en un futuro próximo. Mientras tanto, esperamos aprovechar la tecnología actual para continuar con nuestro importante trabajo.
Yum Bo'otik,
Michael Grofe, Presidente
MAM