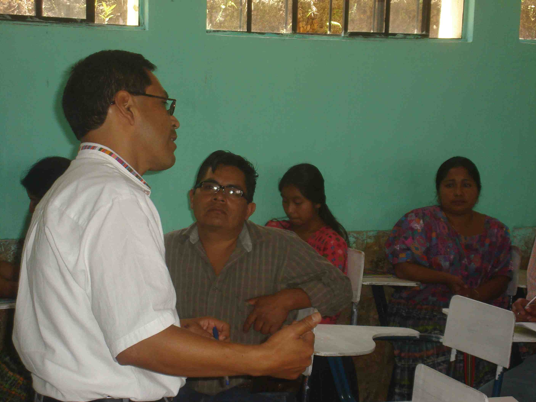 FOM colleague Sebastian Si Pop organized a special meeting of Q'eqchi' school teachers and other professionals, held on Sunday morning March 30, 2008, in San Juan Chamelco, Alta Verapaz. The three-hour presentation covered a basic introduction to Maya prehistory, including the long count, 365-day haab and 260-day divinatory cycle. Some of the local day-keepers that Sebastian invited could not attend because they were busy PERFORMING WAYEB CEREMONIES AT NEARBY SACRED PLACES!
The twenty day names given to the class in Yucateko were quickly converted to the better-known Q'eqchi' names that many of the students already knew.
Part of the day's lecture included use of the almanacs in the Dresden Codex. This was especially interesting to the students who are well familiar with the divination practices of the local Aj K'ijaab, or day keepers.