Dear reader/contributor;
Today's blog breaks precedent in that I am including our grantee's breakdown of expenses. Normally the blog presents the workshop with text and photos but not the expenses, but I wanted you to see how carefully they managed their grant money and how participants themselves contributed to their own workshop. Enjoy the blog!
Bruce Love, President
MAM
Epigraphy in the Poqomchi' Region
by
Augusto Tul Rax
Subject: Report on the Use of the Mini-Grant
Respected and dearest friends of MAM, it is my special pleasure at this time to relate to you a summary of the workshops done with the help of the mini-grant that was given to us, which follows herewith;
1. Description
Place: Classroom at the Escuela Oficial Rafael Arevalo Martinez de Chitul, in the town of Santa Cruz Verapaz, Department of Alta Verapaz, Guatemala.
Dates: March 21, April 4, May 2, and June 6 and 27, 2015. Hours: 8:00 a.m. to 12:00 noon.
Level: Beginner.
2. Themes elaborated
3/21/15:
Principles of Maya hieroglyphic writing
Exercises
4/4/15:
Logograms, syllables, and phonetic complements.
Exercises using the syllabary
5/2/15:
Maya numeration system
Maya calendars
6/6/15:
Individual exercises and presentation of group work
Description of the content of the work
6/27/15:
Evaluation and closing ceremony
3. Participants: 15 persons (10 men and 5 women)
4. Expenditures of materials and transportation
The participants brought their own pencils, erasers, colored paper, notebook, crayons, etc. for the exercises. The participants also covered their own expenses of meals and transportation.
Work materials: Each participant received a workbook of 37 pages (Workbook 1), a workbook of 55 pages (Workbook 2), and its appendix of 58 pages (all financed by MAM) as well as materials for the elaboration of a historical stela with hieroglyphic writing.
5. Description of expenses from the mini-grant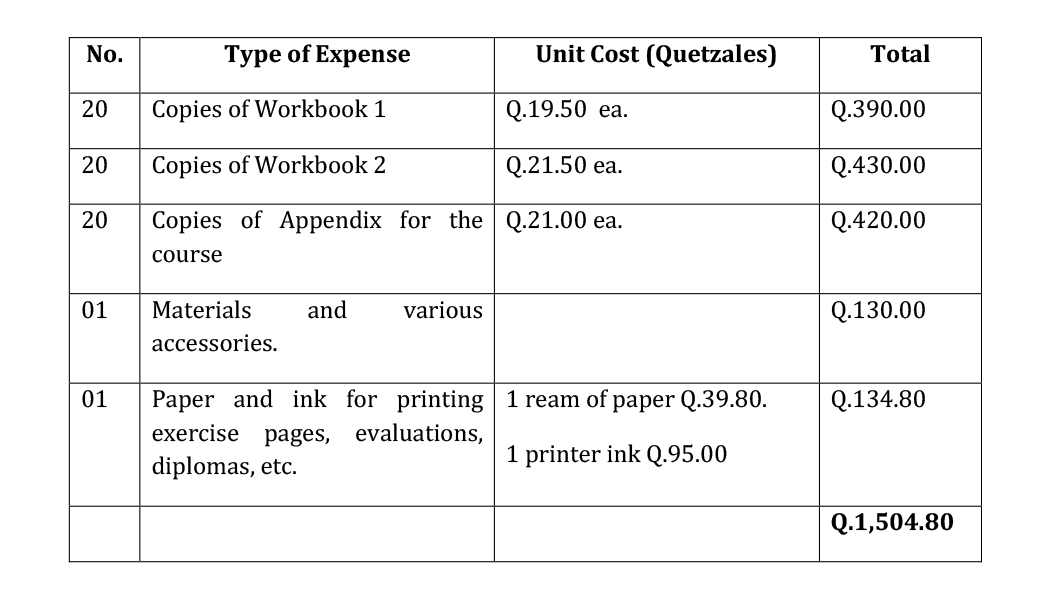 Note: Of the Q1504.80 received from the mini-grant, the participants donated a total of Q.325 for expenses for the closing ceremony, and in addition the Institute of Media Education facilitated the use of a digital projector for presentations.
6. Goals reached
The participants gained the ability to recognize and use the ancient writing.
The basic and elemental knowledge of Maya writing through the application of the syllabary and the constructions of words with glyphs.
A promise to continue using the ancient writing and applying it in activities with other interested parties.
7. Participants' promise
The participants agree to organize two workshops in August to share and apply their knowledge with other persons from other nearby municipalities (we hope all goes well for us).
We are planning a field trip to study the glyphs at the city of Quirigua, with the purpose of expanding our knowledge over epigraphy.
Finally: In the name of the participants I want to express my sincere and profound appreciation to MAM for the support given, and moreover to request your consideration for another opportunity.
Munchu, Santa Cruz Verapaz, Guatemala, July 9, 2015
Sincerely;
Augusto Tul Rax
Voluntary Facilitator