GLYPH WORKSHIP FOR MAYAS IN THE ACHÍ LINGUISTIC COMMUNITY
By
Andrés Cholotío García, Executive Director PLFM Foundation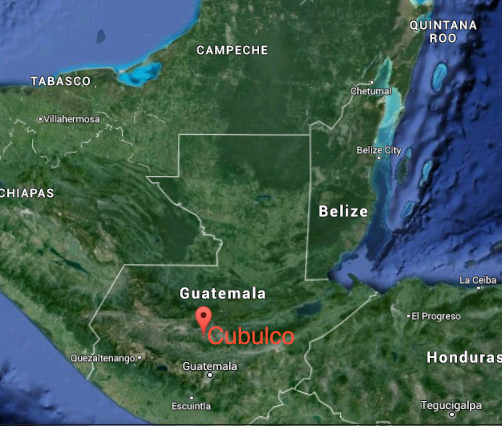 Abstract
Date and place: Event took place in Cubulco, Baja Verapaz on March 1, 2015.
Theme: How to write in tz'iib' (hieroglyphs).
Coordination by: Andrés Cholotío García and the Achí linguistic community
Instructor: Andrés Cholotío García
Assisted by: Nidia Minerva Padilla Sapón
Overall Objective
Acquire and develop knowledge in tz'iib (ancient writing) of our grandmothers and grandfathers by means of using it.
Specific Objectives
Identify the syllabary developed by epigraphers, to begin to write certain words.
Identify mixed spellings to understand the combination of syllables and logograms.
To write certain words with logograms that had been previously identified in texts or monuments.
The Event
Prior to the event taking place, we communicated with MAM to see if it was possible to finance the workshop in the Achí linguistic community, because a group of young people were putting together a certification program in linguistics and wanted to know about tz'iib (hieroglyphs) to enrich their knowledge of the ancient writing.
Since this is a group of young people, it seemed necessary to give some history of how decipherment was started by the epigraphers and the methods they used. To understand this part, we used linguistic analysis of one of the Maya languages, identifying the verb roots and their inflections. This helps to understand how you can identify elements in the glyphs that are discovered.
For the workshop we used material developed by our colleague Hector Xol for various language communities in which he had produced workshops, a document in which he demonstrated a word in tz'iib' and how it was interpreted in the various Mayan languages of Guatemala.
It was explained where glyphs could be found: in codices, on temples, murals, lintels, vases, stelae, and more. Within the decipherments that have been made we could find the syllables from the syllabary, also the logograms that represent words. Also we made a presentation of the syllables that are found in contemporary writing but not found in the glyphs, such as qa, q'a, and ra.
A presentation was made of the structure of words that are in use today and with these it was possible to create some examples of glyphic spelling, like witz, ajaw, ixik, nal, and others. The structure of combined glyphs was shown, how they can be written without changing the original order of the parts, or how one can choose between various options in glyph order presented during the lessons.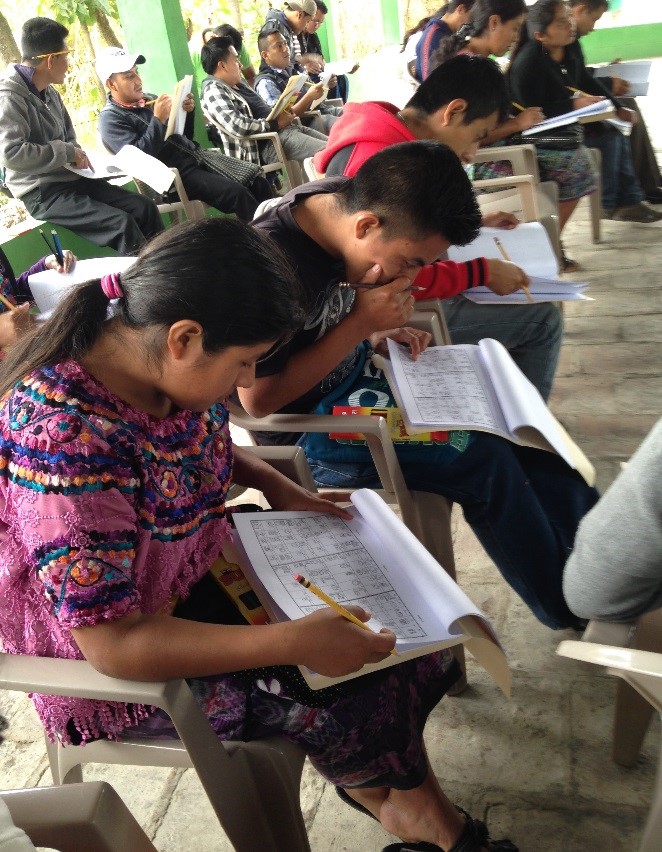 Principles of Reading/Writing
1. Omission of pronunciation of the final vowel.
The writing may be done with whole syllables but when reading, the final vowel is omitted  from the final syllable when the word ends in a consonant.
2. Substitution principle.
This principle works to show how words form: some with simple vowels, some with long vowels.
3. Principle of repetition.
This principle shows us that many of the glyph compounds that are found, in which there are glyphs repeated, are not really such; what happens is that they are duplicating the consonants, and for this reason we find glyphs repeated.
4. Mixing of signs.
The mixing of signs are those glyphs in which we find within one single glyph various glyphs embedded. This kind of art is very important and it is admirable how they managed it.
5. Polyvalence.
Polyvalence is when we find a sign with more than one meaning that has been found during the process of decipherment.
Another theme tackled was Maya numeration.
The numeration in Maya civilization was very important and within the ancient writing there were two forms: one was bars and dots and the other was the head variants with their respective identifications.
Exercises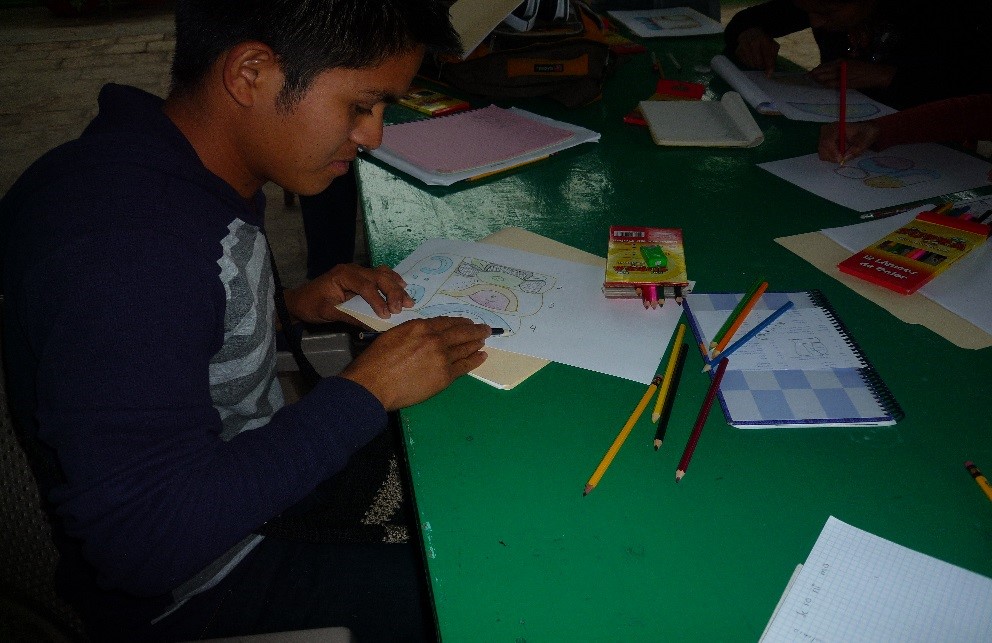 After presenting the subjects, a number of exercises were done; first, to copy a glyph whose structure had already been given, then identifying a glyph and writing its name in Latin characters.

After the exercises, various illustrations were presented by the students showing the use of syllables and logograms along with explanations of how the exercises were done.
Conclusions
The participation of the young people and the results they achieved was very important.
There should be a follow-up workshop for them to continue learning the writing.
The PLFM Foundation has made a commitment for a follow-up later this year.
The willingness and eagerness that these youth have for learning the writing of their grandmothers and grandfathers is very impressive.