Haz clic aquí para leer la versión español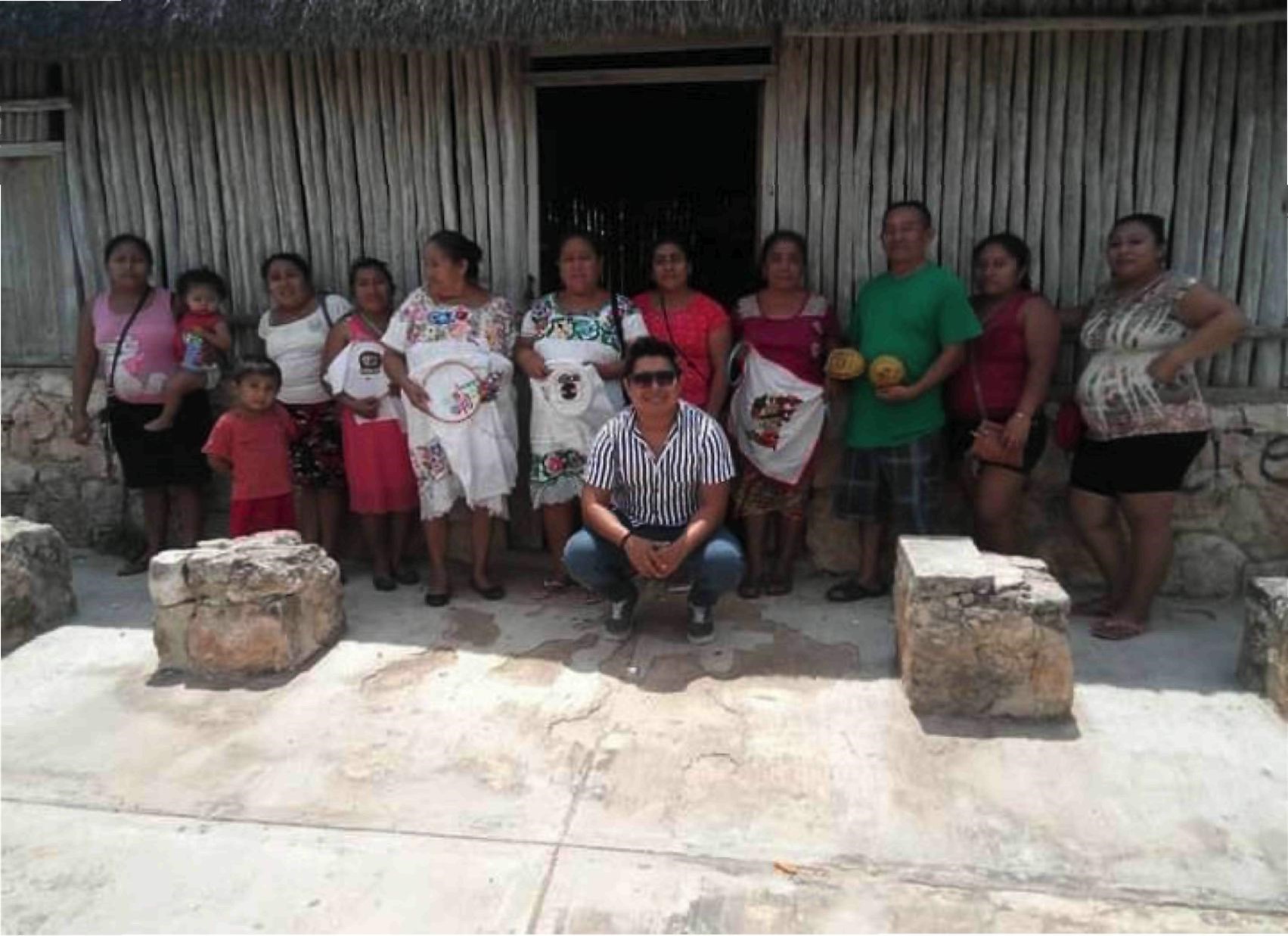 Huay Max and Oxchujk:
The Yüumtsilo'ob K'aaxo'ob Cooperative, 2019, and a New Publication from Martín Gómez Ramírez
The autumn has arrived and the harvest season is upon us. It is a time to remember and honor our ancestors, and all of those we have recently lost. We send our warmest regards to all of our friends as we move into the cooler months ahead, hoping that all of our families will finally have a chance to gather together and share a home cooked meal. We look forward to the New Year, with hope and promise that we will all overcome this pandemic and once again meet in person to continue our meaningful work together.
This month, as we await the reports from our recently funded online workshops, we again harken back to 2019 with a report from Omar Chan, who worked with the Yüumtsilo'ob K'aaxo'ob Cooperative in Huay Max, Quintana Roo, where he conducted a workshop sponsored by MAM in which members learned to embroider and inscribe glyphs onto cultural products like huipiles and gourd cups. Omar is currently facilitating one of our first online workshops this month, and we look forward to reporting back about that soon!
We would also like to congratulate our friend and colleague Martín Gómez Ramírez on his upcoming publication, Escrito Está Sobre Oxchujk: El verdadero significado de oxchujk en glifos de la cultura maya. Back in September of 2019, we published Martín's report from a conference he facilitated at the Intercultural University (UNICH) in Oxchuc, Chiapas in which he presented a dedicatory hieroglyphic plaque that he had written and sculpted in Tseltal. Based on a parallel reading in the Paris Codex, Martín proposes that the original meaning of Oxchujk refers to 'Three Captives'. Here, we include one of Martín's many illustrations.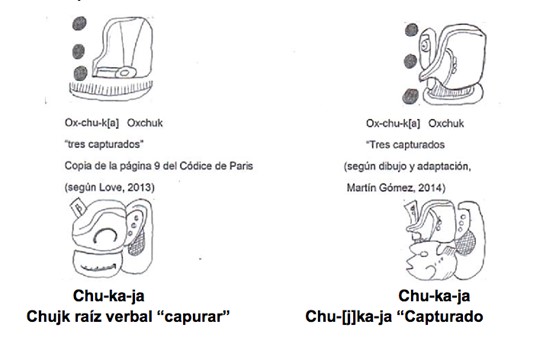 Also included in the publication are additional name glyphs that Martín has designed for multiple municipalities in Chiapas. We wish Martín all the best with his new book, and we wish you all a safe and healthy autumn.
Yum Bo'otik
Wakolowal ta a pisilik
Sincerely,
Michael Grofe, President
MAM
INTRODUCTORY WORKSHOP OF ANCIENT MAYAN WRITING IN
RURAL COMMUNITIES IN THE CENTRAL AREA OF THE STATE OF QUINTANA ROO, MÉXICO, 2019
The following workshop was held in 2019 in the community of Huay Max, in the municipality of José María Morelos, Quintana Roo, Mexico. This community was the scene of the so-called "Caste War," a social movement of the Maya natives of the southeast and east of the Yucatan peninsula against Creoles and mestizos for the social inequality and poverty that the Maya people endured. This movement brought with it about a million human deaths; thousands more died from the Maya insurrection. This social movement lasted 54 years, ending in 1901 with the occupation of the Maya capital, Chan Santa Cruz, currently Felipe Carrillo Puerto, by the Mexican army, although there continued to be isolated hostilities until the mid-twentieth century.
As a first activity, I gave a presentation in which I shared my name and origin. Later the artisan women introduced themselves, sharing their names. After getting to know each other, I explained in a simple way the importance of transmitting the knowledge of ancient Maya writing to the Maya speakers, such as sharing different artistic techniques which can be used to connect with ancient Maya writing.
In order to make a better community bond, a dialogue in the Maya language (Maaya T'aan) was established from the beginning. Immediately the communication became more fluid and the interests of each of the participants could be better understood. The community of Huay Max presents to its visitors handmade products that are made through the decoration of elements of the region, such as pumpkins, gourds seeds, roots, and local hard woods, in addition to making clothing with embroidery through different techniques, such as Xóokbij Chuy. These products are presented to visitors who come to the community.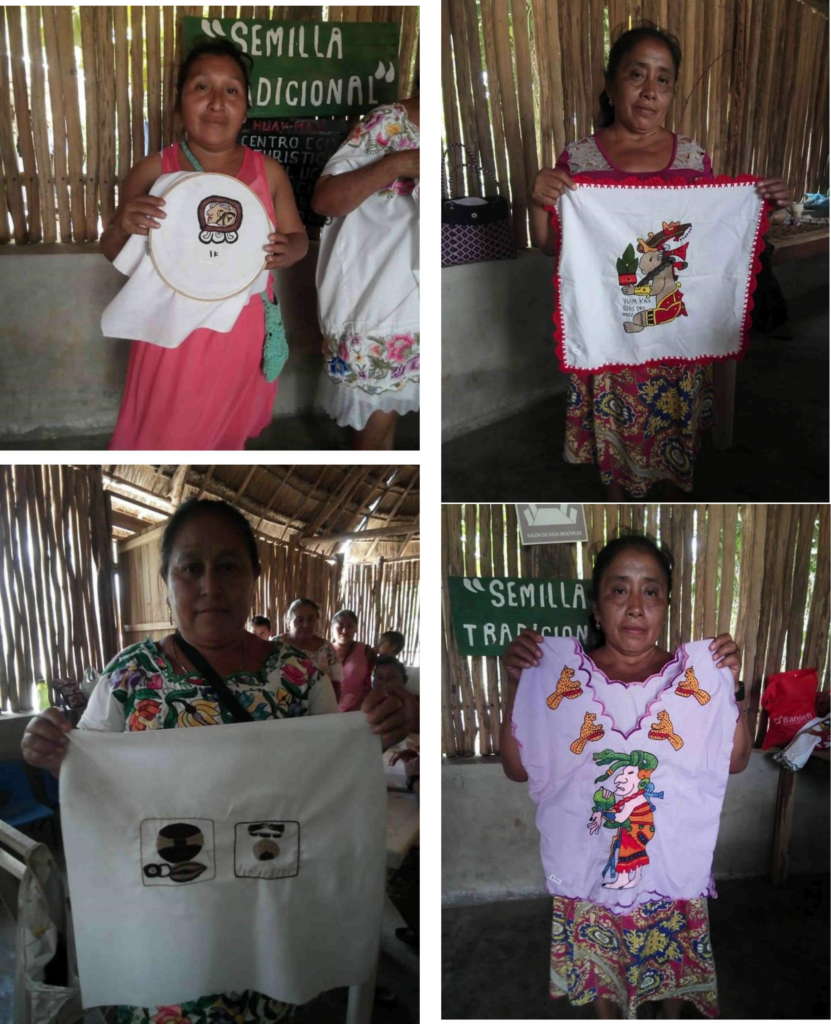 The second activity focused on making a small chronological review about Maya writing, its importance, decline, and the history of its resurgence. However, the roots of our culture cannot be ignored and allowed to go unnoticed, so the artisans of the community felt the desire to learn the writing system of their ancestors to return to recording their Maya language as their ancestors did. In the first session. The composition of the Maya name "Huay Max" was made, so the participants of the workshop immediately wanted to make the record of this composition in their crafts.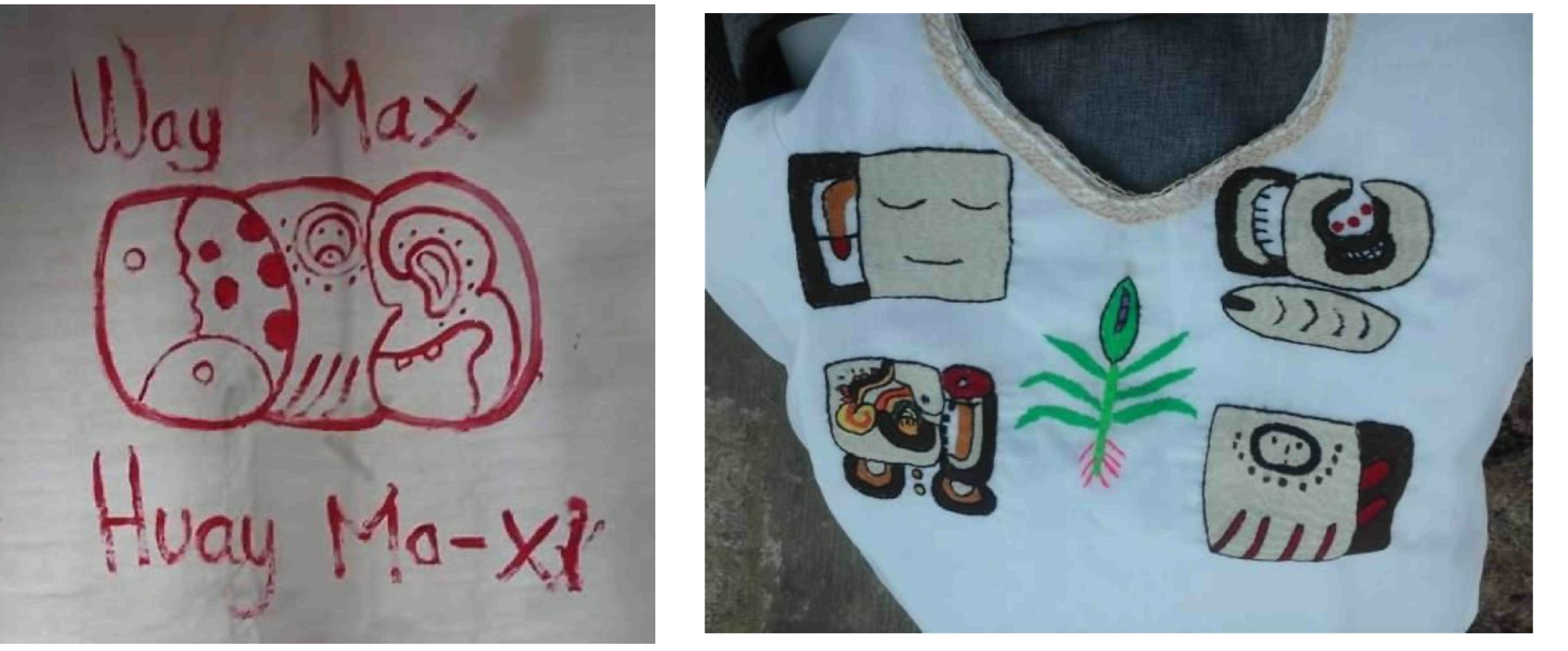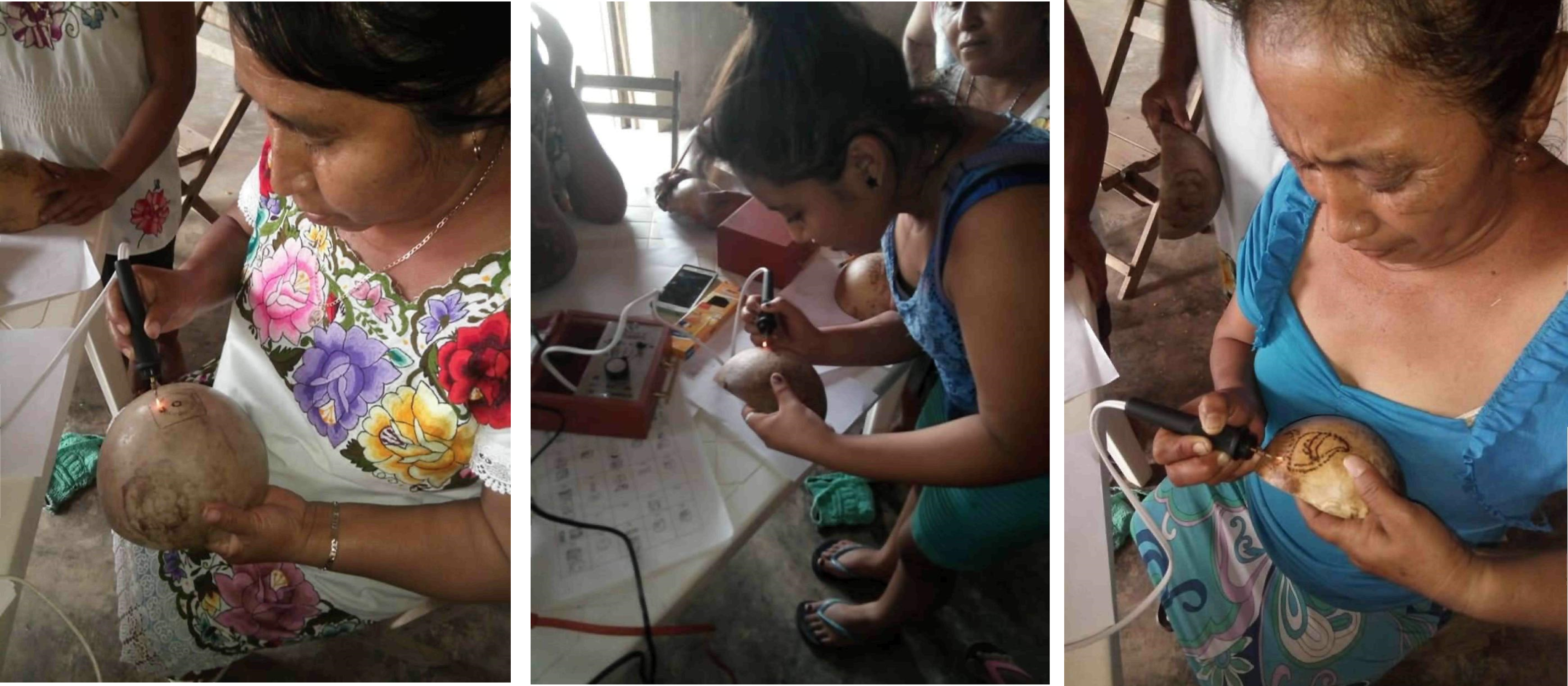 ---
Many of these works are carried out on the basis of skills that have been developed autonomously, using designs that utilize elements that are part of the context of the communities. The following community intervention consisted of training participants in the technique of pyrography in order to help generate economic development for the artisans of the community of Huay Max
---
versión español

13 Ajaw 18 Yax (15 de octubre de 2021)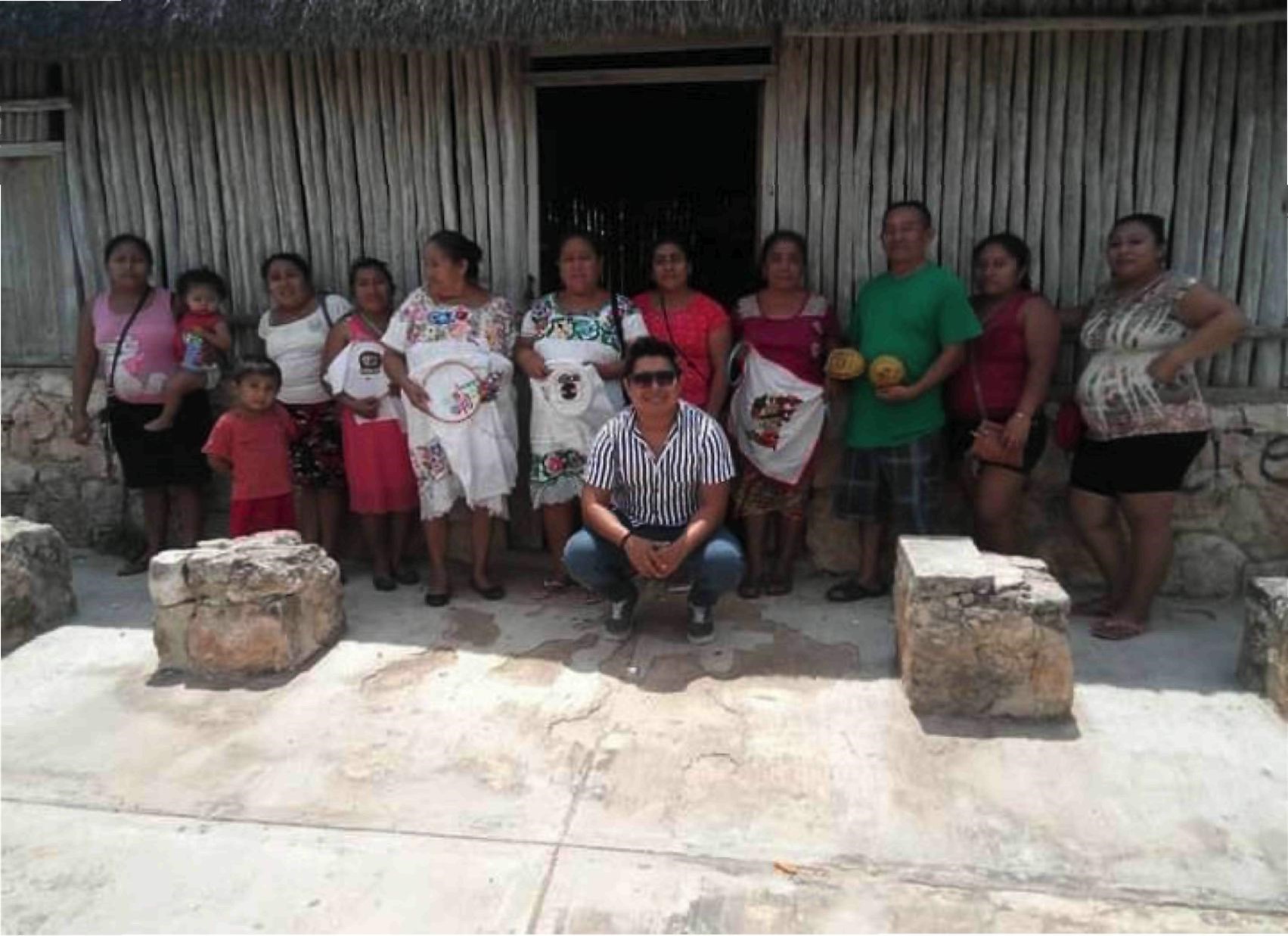 Huay Max y Oxchujk:
La Cooperativa Yüumtsilo'ob K'aaxo'ob, 2019, y una nueva publicación de Martín Gómez Ramírez
Ha llegado el otoño y se acerca la temporada de cosecha. Es un momento para recordar y honrar a nuestros antepasados y a todos los que hemos perdido recientemente. Enviamos nuestros más cordiales saludos a todos nuestros amigos a medida que avanzamos hacia los meses más fríos que se avecinan, con la esperanza de que todas nuestras familias finalmente tengan la oportunidad de reunirse y compartir una comida casera. Esperamos con ansias el Año Nuevo, con la esperanza y la promesa de que todos superaremos esta pandemia y nos reuniremos una vez más en persona para continuar nuestro significativo trabajo juntos.
Este mes, mientras esperamos los informes de los talleres en línea que financiamos de manera más reciente, regresamos al 2019 con un informe de Omar Chan, quien trabajó con la Cooperativa Yüumtsilo'ob K'aaxo'ob en Huay Max, Quintana Roo, donde realizó una taller en el que los miembros aprendieron a bordar e inscribir glifos en productos culturales como huipiles y jícaras. Omar actualmente está facilitando uno de nuestros primeros talleres en línea este mes, ¡y esperamos informar sobre eso pronto!
También queremos felicitar a nuestro amigo y colega Martín Gómez Ramírez por su próxima publicación, Escrito Está Sobre Oxchujk: El verdadero significado de Oxchujk en glifos de la cultura maya. Ya en septiembre de 2019 publicamos el informe de Martín de una conferencia que facilitó en la Universidad Intercultural (UNICH) en Oxchuc, Chiapas en la que presentó una placa jeroglífica dedicatoria que había escrito y esculpido en tseltal. Partiendo de una lectura paralela del Códice de París, Martín propone que el significado original de Oxchujk se refiere a "Tres Cautivos". Aquí incluimos una de las muchas ilustraciones de Martín: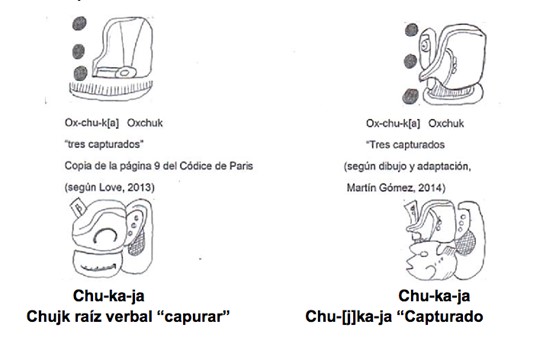 También se incluyen en la publicación glifos de nombres adicionales que Martín ha diseñado para varios municipios de Chiapas. Le deseamos a Martín todo lo mejor con su nuevo libro, y les deseamos a todos un otoño seguro y con salud.
Yum Bo'otik
Wakolowal ta a pisilik
Atentamente,
Michael Grofe, President
MAM
TALLER INTRODUCTORIO DE ESCRITURA MAYA ANTIGUA EN
COMUNIDADES RURALES DE LA ZONA CENTRO DEL ESTADO DE QUINTANA ROO, MÉXICO, 2019
El siguiente taller se efectuó en 2019, en la comunidad de Huay Max, municipio de José María Morelos, Quintana Roo, México. Esta comunidad fue escenario de la llamada "Guerra de Castas"; movimiento social de los nativos mayas del sureste y oriente de la península de Yucatán, en contra de criollos y mestizos por la desigualdad social y pobreza que vivía la gente maya. Este movimiento trajo consigo cerca de un millón de muertes humanas; otras miles más murieron por la insurrección maya. Este movimiento social dura 54 años terminando en 1901 con la ocupación de la capital maya, Chan Santa Cruz, actualmente Felipe Carrillo Puerto, por el ejército mexicano, si bien siguió habiendo hostilidades aisladas hasta mediados del siglo XX.
El taller tuvo una duración de una semana, en la que los participantes aprendieron los principios básicos para la lectura y redacción de los glifos mayas, además de sensibilizarse en prácticas artesanales como el bordado artístico y el pirograbado, Se aplicó un taller de principios básicos de escritura maya antigua, vinculada a actividades artesanales como el bordado y el pirograbado de artesanos maya hablantes del grupo ecoturístico "Yüumtsilo'ob k'aaxo'ob" de la comunidad de Huay Max, municipio de José María Morelos, Quintana Roo, México. El taller tuvo como principal propósito realizar productos y bienes culturales que favorezcan el patrimonio artístico y cultural de los artesanos locales. Los productos que se generen a partir de la aplicación del sistema de escritura "Ts'iib" (escritura que utilizaron los antiguos escribas mayas) fortalecería el patrimonio artesanal de la comunidad de Huay Max. A través de estos conocimientos se pudo transcribir el nombre maya de la comunidad en glifos, y pudo usarse como distintivo peculiar de las obras realizadas en el taller. Estos productos y bienes culturales pretenden fortalecer e impulsar el turismo en la comunidad y fortalecer la economía local.
Como primera actividad, se realizó una presentación, expresando mi nombre y procedencia. Posteriormente las mujeres artesanas se presentaron, expresando sus nombres. Después de conocernos, expuse de manera sencilla, la importancia de transmitir los conocimientos de escritura maya antigua a los maya hablantes, como compartir diferentes técnicas artísticas a las que es posible vincular con la escritura maya antigua.
Para poder hacer una mejor vinculación comunitaria, se estableció desde un principio el diálogo en lengua maya (Maaya T'aan), inmediatamente la comunicación se hizo más fluida y se pudieron comprender mejor, los intereses de cada uno de los participantes. La comunidad de Huay Max, presenta a sus visitantes productos artesanales que se realizan a través de la decoración de elementos propios de la región como son: calabazos, jícaras, semillas, raíces, maderas endémicas, además de realizar indumentarias con bordados a través de diferentes técnicas como el Xóokbij Chuy. Estos productos son expuestos a los visitantes que llegan a la comunidad.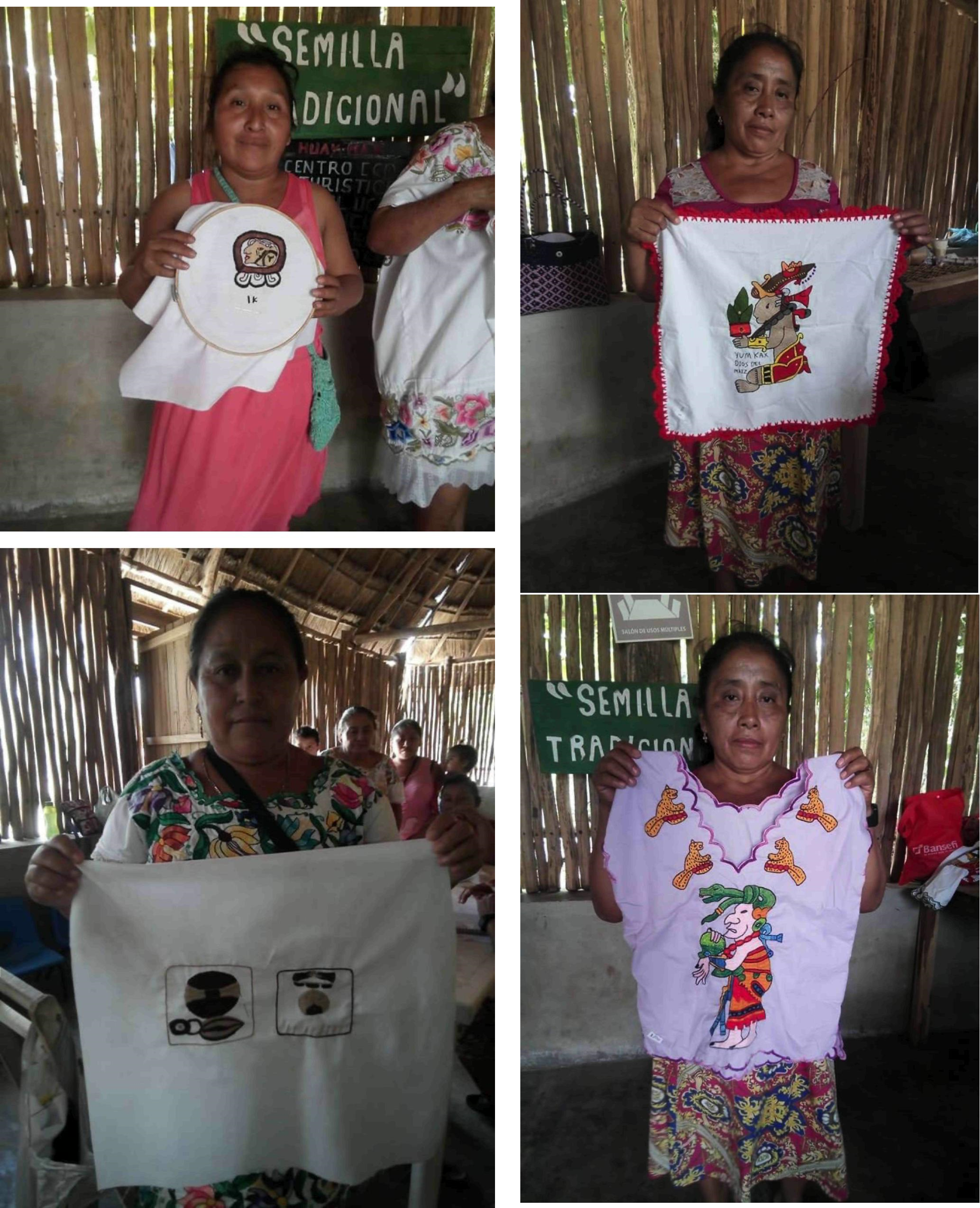 La segunda actividad se enfocó en hacer una pequeña reseña cronológica sobre la escritura maya, su importancia, decadencia e historia de su resurgimiento. Sin embargo no se puede ignorar y permitir que las raíces de nuestra cultura pasen inadvertidas, por lo que las artesanas de la comunidad sintieron el deseo de aprender el sistema de escritura de sus antepasados para volver a registrar su lengua maya como lo hicieron sus ancestros. En la primera sesión se hizo la composición glífica de la palabra en maya "Huay Max", por lo que los participantes del taller inmediatamente quisieron hacer el registro de esta composición glífica en sus artesanías.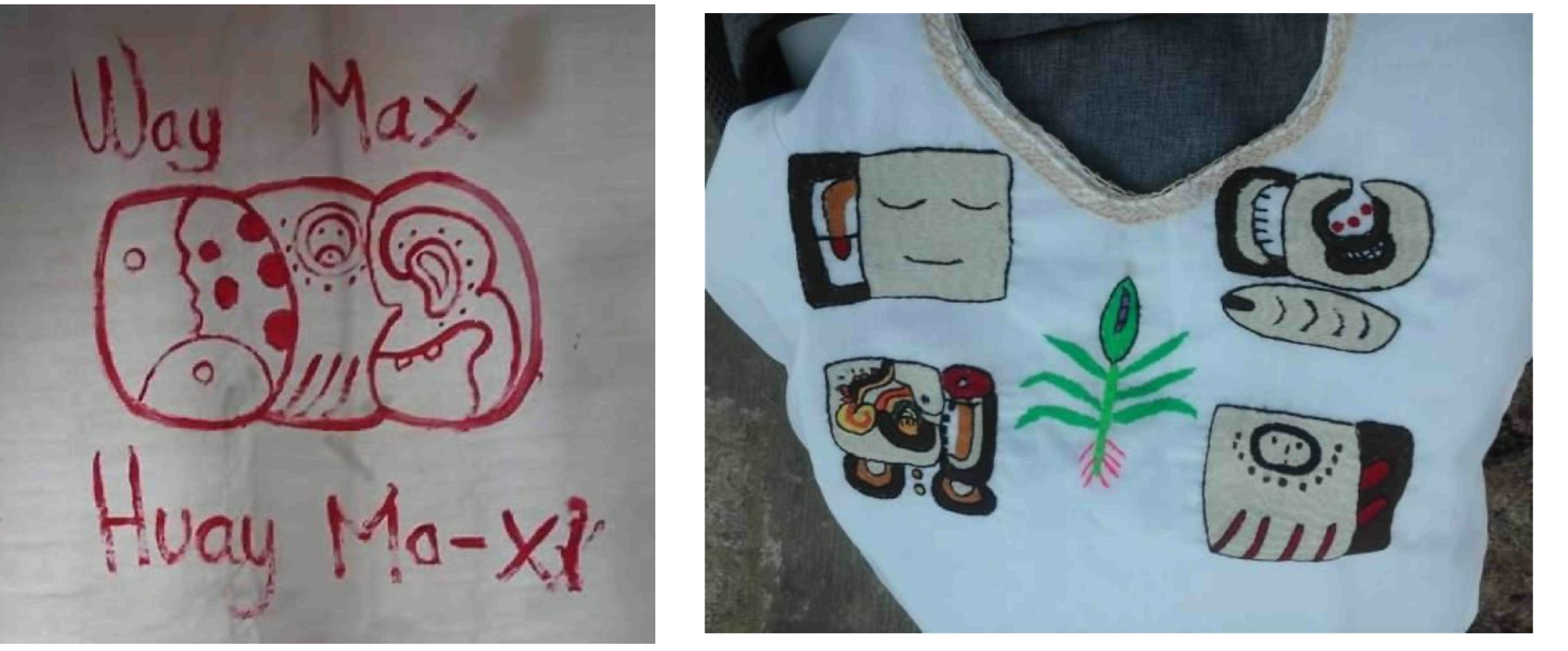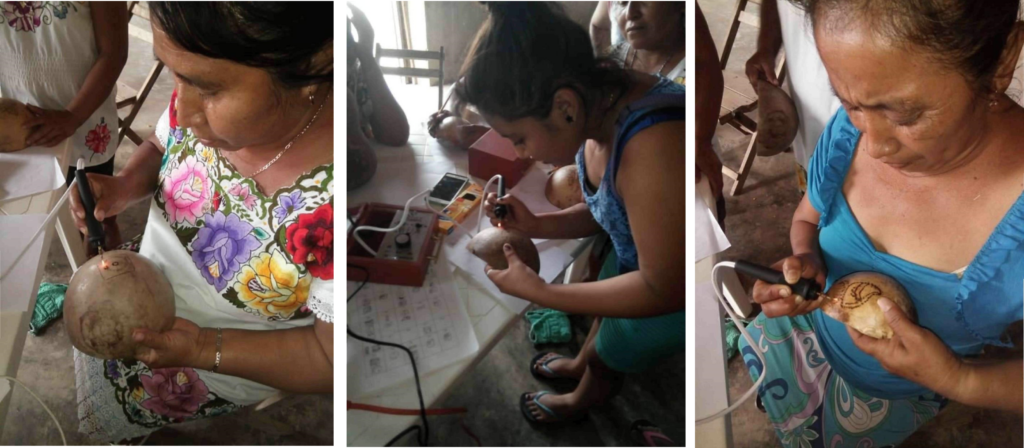 Muchos de estos trabajos se realizan partiendo de habilidades que se han desarrollado de manera autónoma, realizando diseños que proyecten elementos que forman parte del contexto de las comunidades. La siguiente intervención comunitaria de igual manera consistió en capacitar a los participantes en la técnica del pirógrafo, con el fin de ayudar a generar un desarrollo económico para los artesanos de la comunidad de Huay Max.