Today, the Cholq'ij returns to the day 4 Ajaw, the day on which the world was renewed. Today, we continue to hope for a better tomorrow, and it is hard to believe that it has been one full cycle of the Cholq'ij since this pandemic arrived, and our world has been forever changed. I have recently heard from our good friend and President of the PLFM, Ajpub' Pablo García Ixmatá, about the tremendous challenges facing his community and many others like his at this moment, and the painful devastation that Maya communities are having to contend with this year, and I think it is important to share some of his words with you today. Many Maya communities have suffered with lack of adequate healthcare after a surge of cases this past summer, and a reported infection rate that has remained consistently high since then. I am heartbroken to learn that Ajpub' has lost multiple friends and family to COVID-19. He writes:
Dear Friend,

Thank you very much for the communication, the truth is it has been a very hard year… Of the dead alone in my community, approximately 60 people have left us, almost one daily in a small community, and there are still people at home, without medicine and without medical attention. The government has totally abandoned health centers, hospitals. It really is a collapse.

The truth is that many families need help, not only in my community but many, both for those who have died and those who lost jobs, they have nothing to eat. But, it is a huge struggle, truly…

The truth is, the modality of the classes now has been a challenge and obstacle for all of us. And of course, students and co-workers are missed. But let's hope that little by little, we are re-emerging from this problem. As long as we do not have the medicine or vaccine for this disease, we have to take care of ourselves, and others.
The current challenges of the pandemic have made holding workshops and classes an impossibility for so many of us around the world, which has forced us to put our mini-grant program on hold, along with this year's Congreso, previously scheduled for August. Nevertheless, Ajpub' and I have discussed the possibility of promoting online workshops in the New Year to see if there is any interest, and to offer some hope for a better future as we are all so isolated right now, but there may be something we can do to provide some hope. Ajpub' suggested, and I agreed that we should send out a survey to assess the potential for holding online Zoom classes for Maya teachers and students and to assess if they have online access, or what they may need in order to participate in an online workshop. Of course, we must recognize the over-arching priorities of health, work, and food security that are paramount right now for so many of our Maya colleagues, and we hope to be able to offer what we can, in whatever way is feasible within the parameters of our organization. In the coming months, I hope to update you on our progress, including any other reports back from Maya teachers and their communities that we receive.
Today, we publish our last report from one year ago, before the world changed so dramatically, and it reminds us of a better time. We hear from our friend and former Director of the PLFM, Juan Rodrigo Guarchaj Tzep, about the phenomenal pre-Congreso event he held at Rafael Landivar University in Santa Cruz del Quiché in October of 2019. Our friend, the renowned teacher Aj Xol Ch'ok facilitated the instruction. Originally designed as a workshop for only 20 students, it greatly expanded to include 60 participants from the surrounding K'iché, Ixil, Sakapulteko, and Uspanteko communities. The majority of the participants were speakers of K'iché, with others who were Spanish speakers, and several others speaking Kaqchikel, Q'eqchi', and Tz'utujil. We fondly look back to a time when these kinds of large workshops were possible, and we look towards a future when we can all return to working together again.
May we all find healing and strength in this time, and we wish all of you and all of our Maya friends and their communities health, strength, and hope for the future.
Sib'alaj Maltyox, Chajij awib',
Michael Grofe, President
MAM
---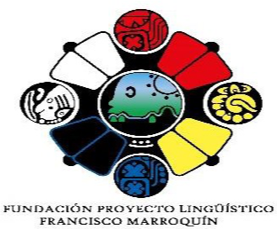 REPORT OCTOBER 2019
PRE-CONGRESS WORKSHOP OF OJEER MAYA' TZ'IIB' SEDE URL / SANTA CRUZ DEL QUICHÉ, GUATEMALA
FRIDAY, OCTOBER 25, 2019
Overview
ACTIVITY: PRE-CONGRESO WORKSHOP OF OJEER MAYA' TZ'IIB'
EVENT NAME: INTRODUCTION TO THE OPERATION AND USE OF THE MAYAN OJEER' TZ'IIB'.
LOCATION: SEDE URL / SANTA CRUZ DEL QUICHE, GUATEMALA
TARGET GROUP: FORMATION OF 60 MAYA SPEAKERS FROM THE QUICHÉ AREA.
THEMES: HISTORY, CALENDAR AND ANCIENT MAYAN WRITING. MAYA HIEROGLYPHIC WRITING SYSTEM.
Responsible: Juan Rodrigo Guarchaj
I. PRESENTATION 
The activity was carried out in coordination with professors from the Rafael Landívar University based in Santa Cruz del Quiché in the department of El Quiché, in order to promote awareness, rescue and development of values and knowledge about the Ojeer Maya' Tz'iib', while knowing and practicing the Mayan writing system, among young men and ladies who identify as local actors, academics and professionals. The event stated that developing topics were known basic standards of Maya reading and writing, and participants demonstrated that in the future they could train and promote in representatives of social and cultural groups knowledge of elements of the Maya writing system.
II. GENERAL OBJECTIVES
Promote the study of Ojeer Maya' Tz'iib' Maya-speakers to raise awareness of critical thinking in the discussion of proposals and alternatives in the vindication of Mesoamerican culture.
Specifics:
Continue the formation of Maya-speakers to demonstrate their commitment to promote and disseminate the culture and use of the Ojeer Maya' Tz'iib' system.
Sensitize and train Maya-speakers from the Mesoamerican area towards critical thinking regarding advances in studies of the texts of Ojeer Maya' Tz'iib'.
III. WORKSHOP DURATION
The workshop had initially been scheduled to be held for two days in September of 2019, but for other reasons it was moved until October, where the entire program was held in a single day, developing a specific program in coordination with the parties involved.
At the same time, 20 participants had been expected to participate; however, the shorter time did not prevent the opportunity to increase the number to sixty (60) participants between ladies and young men.
Participants are members of the area's linguistic communities, K'iche', Ixil, Sakapulteko, Uspanteko, and Spanish speakers. The coordination of support and responsibilities was maintained by the professors of the Rafael Landívar University.
IV. METHODOLOGY
The workshop was facilitated by the expert and connoisseur of the Ojeer Maya' Tz'iib', Aj Xol Ch'ok, who applied active, participatory and lively methodology. It also stands out as a strength for Maya-speaking participants; teaching participants with a Mayan cosmogonic approach.
During the screening, a workshop plan was developed.
Representatives of cultural and social groups and students of Rafael Landívar University of El Quiché were convened.
The workshop on introduction to Mayan writing was developed in its theoretical form.
V. WORKSHOP RESULTS
This workshop trained 60 Maya speakers, representing groups that promote cultural and social activities of the place.
Topics developed were
a) Maya Hieroglyphic Writing
Features
Basic principles
Logograms and syllabic signs
b) Glyphic structure
c) Calendars
Long Count
Cholq'ij
Haab'
d) Reading a Mayan text
Left to right
Double columns
e) Exercise: write Mayan words with the Mayan syllabary
VI. LIST OF PARTICIPANTS 
| | |
| --- | --- |
| Young Men participants | 15 |
| Young Women participants | 45 |
Participants by Language Community
| | |
| --- | --- |
| K'iche' Language | 42 |
| Spanish language | 15 |
| Kaqchikel language | 1 |
| Q'eqchi' language | 1 |
| Tz'utujil language | 1 |