Such Beautiful Words: Hieroglyphic Poetry in Chiapas and the work of Martín Gómez Ramírez
This month, we hear from our longtime friend Martín Gómez Ramírez, who has been writing beautiful hieroglyphic poetry in Tzeltal for many years. Here, Martín reports back from a conference that he facilitated this past April on the origin and meaning of the name Oxchuc for the Intercultural University (UNICH) in Oxchuc, Chiapas and the Oxchuc House of Culture, in which Martín presented a dedicatory hieroglyphic plaque which he had written and sculpted in Tzeltal.
Martín then brought his understanding of hieroglyphic writing, poetry, and symbolism to an introductory workshop in San Cristobal de Las Casas, in which Tzeltal students produced and presented magnificent works in the ancient script of their ancestors.
This ongoing and important work is supported by your generous donations, and it helps young Maya people learn from their elders, create new and beautiful works of art and poetry, and proudly honor the traditions of their ancient ancestors.
Wakolowal ta a pisilik,
Michael J. Grofe, President
MAM
---
CONFERENCE REPORT FOR THE WORKSHOP SUPPORTED BY
THE MINI-GRANT FUNDED BY MAYAS FOR ANCIENT MAYAN (MAM)
PART 1: THE DEDICATION
PLACE: Oxchuc, Chiapas, Intercultural University (UNICH) and Casa de Cultura de Oxchuc
DATE: April 4, 2019
SPEAKER: Martín Gómez Ramírez
TOPIC: The true meaning of "Oxchujk"
LANGUAGE ASSISTANTS: Tzeltal University students
I want to thank you for this invitation to allow me, for my dear people of Oxchuc, to share with you how this coming conference will be conducted, in particular by students from the Intercultural University of Chiapas, Oxchuc, in collaboration with the Casa de Cultura de Oxchuc.
Oxchuc is a hierarchy of villages organized into municipal offices, with a mix of traditional ceremonies and the jtuuneletik festivals, the religious rituals after colonization. After almost 33 years, since 1986, I have been in communities across the Oxchuc territory, for documentation and in attendance at parties; water wells; celebrations, such as molino de Xel in Santa Cruz, Chiapas; processions; and I participated in ritual ceremonies in holy places, such as at Cerro Muk'ul Ajaw, sacred to my ancestors.
First, I wish to correct the meaning of the word "Oxchujk," from the current usage given by previous researchers as "three knots." During international meetings of Maya epigraphy, in collaboration with Dr. Bruce Love, the true meaning of "Oxchujk" has been found in the Paris Codex on page 9, to be translated as "three captives."
PLAQUE UNVEILING CEREMONY WITH MAYAN GLYPHS AT THE HOUSE OF CULTURE, OXCHUC
April 4 at 4:00 pm
Welcome by Yolanda Sántiz
Good afternoon, all of you, we are happy to welcome you to this ceremony of the unveiling of a plaque written in Mayan hieroglyphic writing by the researcher and Tzeltal writer Martín Gómez Ramírez.
Introduction of the participants:
Yolanda Sántiz Gómez, Director of the House of Culture of Oxchuc.
Mariano Encinos Gómez, Cultural Representative, Yom lum to unify Mother Earth.
Mariano De Jesús Pérez Hernández, Coordinator of the Municipal Culture Centers.
Esteban Sántiz Gómez of the "Narciso Mendoza" primary school in the Montebello community, Oxchuc, Chiapas.
Sebastián Patishtan Méndez, Director of the State Centre for Indigenous Languages, Art and Literature (CELALI).
Ajts'ib' Martín Gómez Ramírez, Tzotzil Scribe and Facilitator of this Conference.
The Incantation to Mother Earth
This Maya ritual ceremony is directly influenced by our acknowledgment of the ajawetik, for the agricultural production and welfare of society, our lekil kuxlejal in charge of mamtik,
Mariano Encinos Gómez, Yom lum unify Mother Earth.
Unveiling of the plaque
Presentation by Dr. Sebastián Patishtán Méndez of the plaque written and read in Mayan hieroglyphic writing by Martín Gómez Ramírez.
INTRODUCTION TO READING AND WRITING OF THE TZ'IB SYSTEM
UNIVERSIDAD INTERCULTURAL DE CHIAPAS.
SAN CRISTOBAL DE LAS CASAS, CHIAPAS.
WAKLAJUNEB JOK'EN AJAW, MAY 22-24, 2019
Ajts'ib: Jmaltin Kontsal K'aal
MARTIN RAMIREZ GOMEZ
PART 2: THE WORKSHOP
PURPOSE: To understand the origins of writing, to learn the ts'ib reading system using the syllabary, and to recognize and apply these lessons in the student's life.
OBJECTIVES: To know and identify hieroglyphic writing as building blocks in contemporary glyphs through the current syllabary. To recover and return to everyday use emblem glyphs as sacred in our towns.
PLACE: The Intercultural University of Chiapas (UNICH) at Yajalón ("Green Land"), and San Cristobal de Las Casas, Chiapas, Mexico
DATES: May 22-24, 2019.
FACILITATOR: Prof. Martín Gómez Ramírez
CO-LEADER: Lic. Julio César Gómez López
TOPIC: Introduction to the Reading and Writing System of Mayan Hieroglyph Writing
ATTENDANCE: 23 students from UNICH at San Cristobal de Las Casas, and at Yajalón; representing 3 Mayan languages: ​​11 Tzeltal, 4 Tsotsil, and 8 Ch'ol.
Background
The Tzeltal areas of ​​Chiapas are located in northern, central, and southern dialect areas. Within these different areas, variants present language differences that need to be addressed to apply knowledge in the next workshops of Maya Neel Ts'ib. This workshop is a commitment to contribute to and multiply the Maya writing system for speakers of Mayan languages.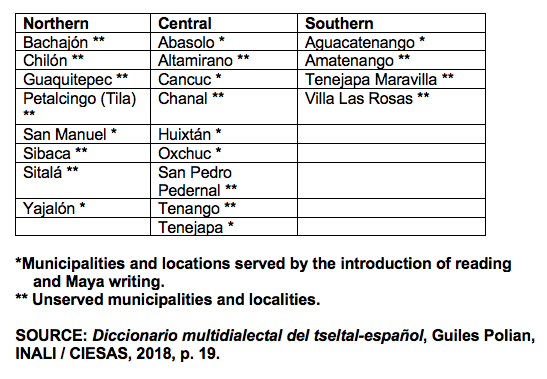 Poetry and Symbolism
In combination with the normal reading order, certain combinations of words can appear together, such as those in the contemporary poetry compendium of the cicada/Xikitin, which can be applied to ancient metaphors, such as nichte' or sotste'. It is useful in writing to use a poetical glyph element, the meaning of which is applied interchangeably among readers, regardless of the dialectal variant of the region.
For example, the meaning of Nik, Nich, Mayan zero, is within our worldview as:
Flower, Our Mother, Center, Absence of quantities, Principal, Beginning and/or End.
THE WORKSHOP
Martin unveiled the syllabary, Mayan glyphs, and twenty numbers to each of the university students to form teams by language: Tzeltal, Tzotzil, and C'hol.