Stz'ib'al Ab'xub'al Popti': A Popti' Maya Alphabet
The Ancient Maya Script Returns to Jacaltenango
This month, we hear back from the highlands of the Cuchumatanes in Guatemala, where Edy Benjamin López Castillo conducted an introductory workshop on Ancient Maya Writing for Popti' speakers in Jacaltenango this past May. This is one of the first workshops of its kind for Popti' speakers, and we are very gratful to learn that it was inspired in large part by last year's Congreso in Huehuetenango, in which Edy López was an active participant. Following instruction in the syllabary, the group created a Popti' alphabet, using illustrations and Popti' words for each letter.
Workshops like this one are made possible by the generous donations of our supporters like you, and through this work, the ancient script has returned to live again in many more communities and language groups than ever before. We applaud the insipiring work being carried out Edy López and our other Maya colleagues and teachers, and we look forward to supporting more workshops like this in the future.
Yuch'antihoxh,
Michael Grofe, President
MAM
---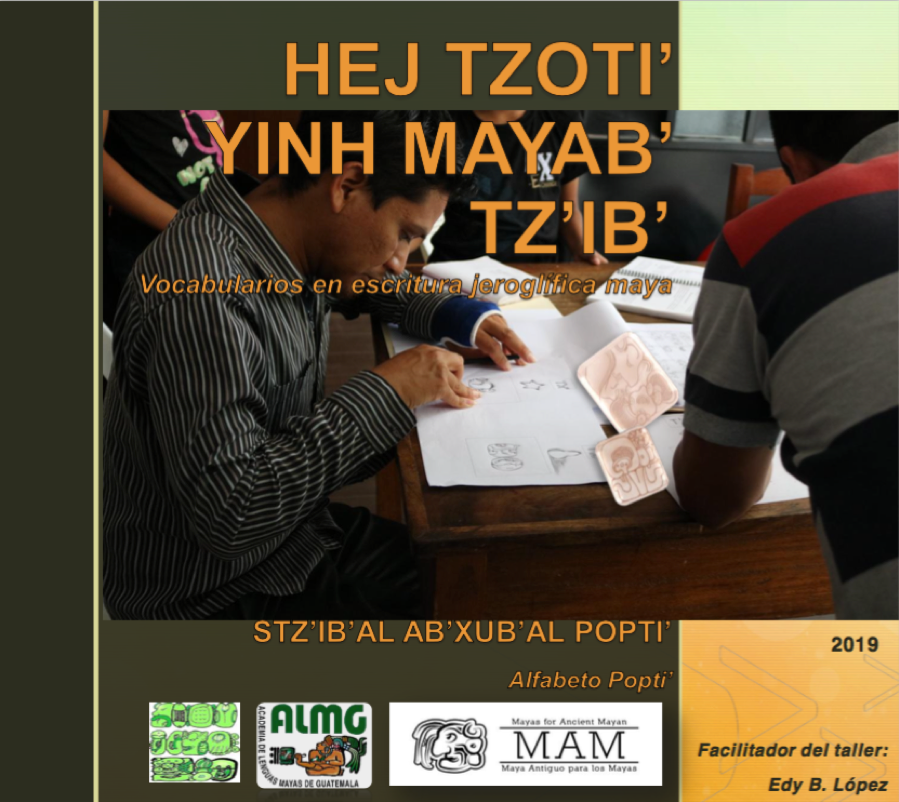 Report on the Maya Hieroglyphic Writing Workshop
Place: Jacaltenango, Huehuetenango, Guatemala.
Headquarters: Popti'-ALMG- Linguistic Community
Date: May 16, 2019.
Responsible: Edy Benjamín López Castillo
Beneficiary ethnicity: Maya Popti'.
Location: The Popti' Maya ethnic group is located in the northwest of the department of Huehuetenango, Guatemala, also known as the Huista or Wuxhtaj (Brother) Region. It is made up of seven municipalities: Jacaltenango, Concepción Huista, Petatán, Unión Cantinil, San Antonio Huista, Santa Ana Huista and Nentón.
Description
The workshop was conducted over a period of 8 hours, focusing on the Introduction to Reading and Writing in the Mayab' Tz'ib' system with the participation of a group of middle level students, Jacaltenango diversified training cycle, university students, and professionals from the Popti' Linguistic Community of the Academia de Lenguas Mayas de Guatemala.Originally, the workshop was organizedfor 25 people. However, for reasons unrelated to the activity, only 20 participated.