Ancient Murals and New Writing: Inspiring the Curiosity of the Children of Santa María Cauqué
This month, we hear back from Ana Lucía Perez Sebaquijay and Tepeu Poz Salanic, who held an introductory workshop this past April in the Kaqchikel village of Santa María Cauqué in Sacatepequez, Guatemala. Their enthusiastic students got to explore the San Bartolo Murals, while also playing hieroglyphic games, and extensively studying the writing system. Such wonderful photos!
One year ago, we were just about to begin the Fourth International Congreso on Ojer Maya' Tz'iib in Huhuetenango, and I fondly think back to all that we accomplished there, and all that has been accomplished since then, with the help of all of our generous supporters.
I just recently returned from Belize, where I was able to help co-facilitate an introductory hieroglyphic workshop at the George Price Center in Belmopan with the help of Ernesto Saqui and Melissa Chiac. This was largely made possible by a generous donation from Dr. Ed Barnhart of the Maya Exploration Center, with thanks to Ellen Barclay and Phil Krejcarek and their students from Carroll University in Wisconsin, who participated in and supported the event. We were very excited to see many new faces, including several Maya participants who are studying to be archaeologists in Belize.
We received many applications this past Winter and Spring, and we funded as many as possible. We encourage all of those who did not receive funding to re-apply when we have our next call for applications. Fortunately, we were able to fund three additional mini-grants at the end of our Spring funding season:
Clinton Cho, Inno'on La oh
Belmopan, Belize: Mopan, Q'eqchi', Yucatec.
Ajpub' Pablo García Ixmatá
Frontier between Chiapas and Guatemala: Various language groups.
Juan Rodrigo Guarchaj Tzep
San Juan Ostuncalco, Quetzaltenango, Guatemala: Mam
We are very grateful to all of our generous supporters for making this ongoing work possible.
Ütz Matiox,
Michael Grofe, President
MAM
---
Introductory Workshop for boys and girls from the Santa María Cauqué Village: 7 K'at, 12 Pop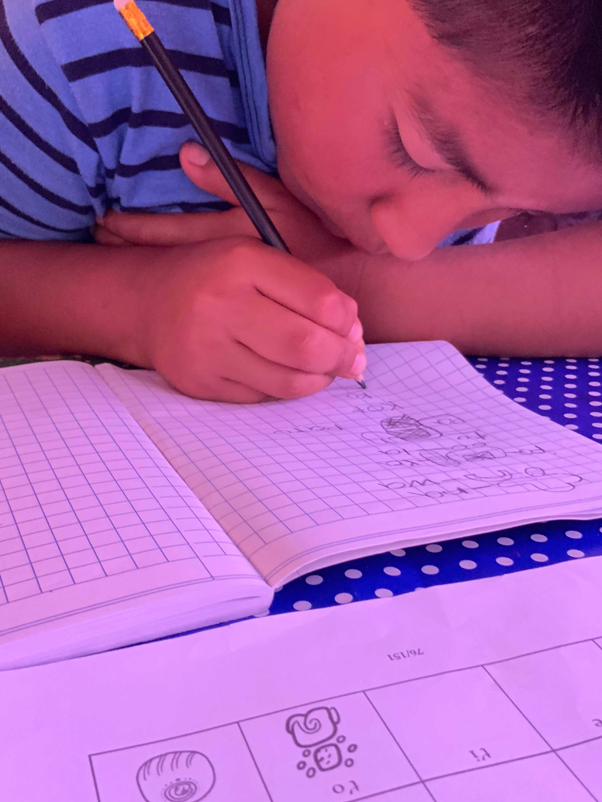 This workshop was held in the facilities of the Public School of the community and was facilitated by Tepeu Poz Salanic, K'iche' Maya, and Ana Lucía Perez Sebaquijay, Kaqchikel Maya. We started at 8:30, with games to get to know each other. They introduced themselves and practiced Kaqchikel by saying their names. We gave a brief explanation about the decipherment, and the children were very interested and questioned why the Maya writing stopped being used. We all shared our opinions and the importance of recovering this knowledge. Continue reading →