All of us at MAM wish you and your families a wonderful holiday, and we send our deepest thanks to all of our supporters for making this an unforgettable year, with the successful Congreso in Huehuetenango. As we move into 2019, we are once again preparing for our yearly holiday fundraiser, while also soon announcing our next call for applications for our upcoming round of mini-grants.
We look forward to another exciting year ahead as our Maya colleagues prepare for the next Congreso, to take place in Quintana Roo, Mexico in 2020, and we are always grateful for all of the support we receive to help the Maya in their efforts to revitalize their ancestral script.
This month, we hear from Daniela Esther Cano Chan, a dynamic teacher who taught an introductory workshop on Maya writing from May 18 to July 15 for twenty five Yucatec Maya students at the Colegio de Bachilleres Plantel in Teabo, Yucatan, just outside of the Pueblo of Maní.
In 1562, Maní was the site of the infamous and tragic auto de fé of Diego de Landa, who burned many Maya codices and religious statues, thereby destroying unknown amounts of Maya history, science, and literature—and almost completely erasing all knowledge of the script. Yet, what once almost vanished has now returned, and it is a profound testimony to the resilience of Maya language, culture, and people that we now see the Maya script return to the very community where this tragedy took place so many years ago. The Maya script lives again.
Yum bo'otik, Na bo'otik,
Michael J. Grofe, President
MAM
---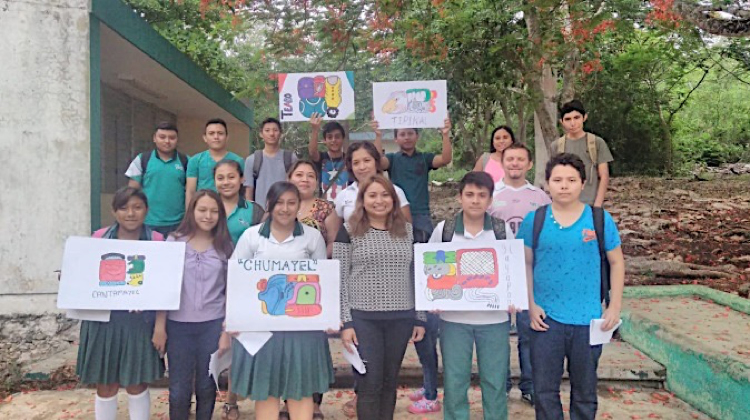 Introductory Course in Maya Epigraphy
Daniela Esther Cano Chan

This workshop was designed for young people from the southern area of Yucatan, mostly indigenous people who speak the Yucatec Maya language, from the villages of Maní, Tipikal, Teabo, Mayapan, Cantamayec and Chumayel, in order to share knowledge about the ancient writing of our Mayan grandparents and grandmothers and allow them to have an increasingly strong connection with their roots. Continue reading →