As we enter into the holiday season at the end of the year, we find that today's date, 4 Ajaw, recalls both the auspicious Long Count Era Base date of 4 Ajaw 8 Kumk'u, and the culmination 13 Bak'tuns in December of 2012, already almost five years ago now. We have completed the very first Hotun of the New Era.
Firstly, I wanted to fully recognize all of the members of the PLFM Team on Ancient Maya Writing, who have successfully organized and carried out four Pre-Congreso events this year!
Juan Rodrigo Guarchaj
Ajpub' Pablo García
Saqijix Candelaria Ixcoy
Hector Xol Choc
María Beatriz Par
The final Pre-Congreso took place in Comitán, Chiapas late last month, and we look forward to reporting back to you about it in a future post.
Next, I would like to thank all of those who generously donated to our first #GivingTuesday fund drive! We appreciate all of your kind hearted support as we prepare for many exciting events in the coming year.
Later this month, I will be heading to Antigua, Guatemala to meet with the PLFM team to help coordinate our efforts for the coming year. Following this, in early January, I will be working together with Ernesto and Aurora Saqui, Manuel Bolon, and Felicita Cantun to host a Maya Writing Workshop for 16 participants in Maya Centre, Belize. I am looking forward to a productive start to the New Year!
This month, I would like to present an exciting report from events in the field in Merida, Yucatan, Mexico. Milner Rolando Pacab Alcocer reports back to us about the colorful Public Exposition and Demonstration of Maya Hieroglyphic Writing by Maya Primary School Teachers of the Ko'one'ex Kanik Maaya Program.
From all of us at MAM, I wish you all a wonderful holiday, and a Happy New Year!
Yum Bo'otik,
Michael J. Grofe, President
MAM
---
Report from the Ko'one'ex Kanik Maaya Program
Merida, Yucatan, Mexico
I present to you the report of activities carried out in the month of March of 2017 with a group of 25 Mayan language teachers of the Ko'one'ex Kanik Maaya Program of the State of Yucatán, who learned about Mayan glyphs in order to teach about them in the primary schools where they work, as well as photographs documenting these activities.
In March, there were two separate activities: the "Exhibition and Public Demonstration of Mayan Hieroglyphic Writing" and a "Mayan Glyph Workshop."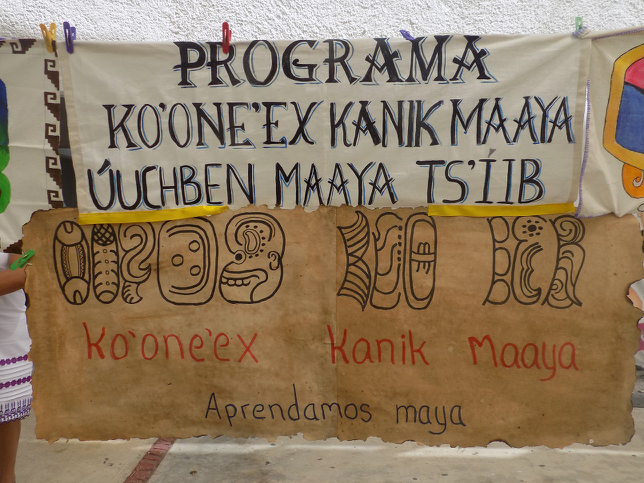 Continue reading →