Congratulations to the 15 MAM Mini-Grant Recipients!!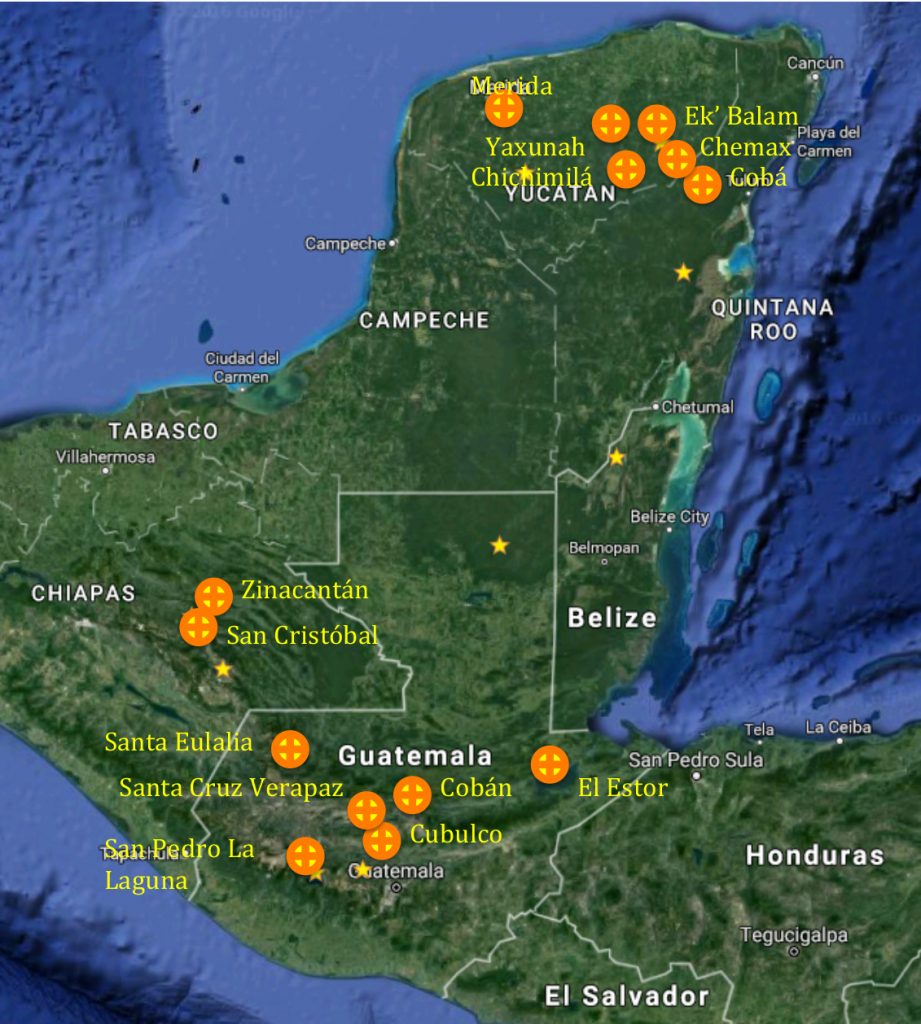 Thanks to the generous support of our donors, we are pleased to announce the recipients of fifteen newly awarded Mini-grants:
1) José Alfredo Hau Caamal and Erika Evangelina Puc Ay, March 4, 11 and 18.
Hunukú Temozón Yucatán (Ek Balam): Yucatec.
Workshop on epigraphy for 24 1st graders and 22 2nd graders in Ek' Balam.
2) Milner Rolando Pacab Alcocer, March 15 and April 14.
Mérida, Yucatan: Yucatec.
2 Intermediate workshops for 25 students, ages 20-30 years.
3) Gregorio Hau Caamal, March 17 – April 21.
Chemax, Yucatan: Yucatec.
6 2-hour intermediate workshops on Maya epigraphy for 31 students of Universidad de Oriente.
4) Mario Sebastián Caal Jucub and Marina Rosales López, March 18-19.
Cobán, Alta Verapaz, Guatemala: Q'eqchi.
Proposal for two-day workshop for Maya spiritual guides. 40 men and women, ages 30-60 years.
5) Victor Maquin, March 18-19.
El Estor, Izabal, Guatemala: Q'eqchi'.
2-day introductory and intermediate workshop for 35 Maya teachers.
6) Mateo Ajualip Rodriguez, March 23-April 27.
Cubulco, Joyabaj Quiche, Rabinal, San Miguel Chicaj, Salamá, Baja Verapaz, Guatemala: Achí, K'iche'.
5 workshops for 20 primary school teachers each, with distribution of 100-page manual, containing the methodology for teaching Maya writing.
7) Victor Mazun Tec, March 31-April 2.
Yaxunah, Yaxcabá, Yucatán: Yucatec.
3-day workshop on basic Maya writing for 6 children and 8 young students.
8) Gloria Nayeli Tun Tuz, April 6-July 19.
Chichimilá, Yucatán, Mexico: Yucatec.
2 hour glyph workshop, 3 times per week for three months for 20 young students.
9) Augusto Tul Rax, April 9 and 23.
Santa Cruz Verapaz, Alta Verapaz, Guatemala: Poqomchi.
2 intermediate workshops for 40 adolescent and adult students.
10) Clemente Peneleu González, April 20.
San Pedro La Laguna, Sololá, Guatemala: Tz'utujil.
Introductory calendar workshop for 20 young students.
11) Pedro Geovi Toledo, May 6.
Santa Eulalia, Huehuetenango, Guatemala: Q'anjobal.
1 day intermediate epigraphy workshop for 30 young men and women.
12) Luis Manuel May Ku, May-June.
Cobá, Quintana Roo, Mexico: Yucatec.
Proposal to build a stela,15 students, ages 10-12 years.
13) Leonel Pacay Rax, June 10 and 17.
Cobán, Alta Verapaz, Guatemala: Q'eqchi.
2 8-hour workshops for 30 children and young people, both introductory and intermediate.
14) Juana Laura Pérez Ruiz, Dates flexible upon approval.
Zinacantán, Chiapas, México: Tzotzil.
2 hour introductory workshop, 2 days per week, 84 hours total (5 months) for 20 alumni of UNICH, ages 18-24.
15) Domingo Meneses Méndez, September 25-29.
San Cristóbal de las Casas, Chiapas, Mexico: Tzeltal, Tzotzil, Ch'ol, Tojolabal.
We are very proud to be able to help support the hard work of so many Maya teachers and students who are relearning the script of their ancestors. Along with thanking all of our continuous support from our donors and our Board of Directors, I would also like to thank the other members of the Executive Committee and the MAM blog team for donating their time and energy to make our work possible. MAM has no offices, no salaried employees, and no overhead. We really are a lean running organization. Except for Xoom transfer fees and occasional postage, all of what comes in from our donors in support of these Mini-grants goes directly to our Maya colleagues, and they use the funds with amazing creativity. I am very proud of the work that we do, and the amazing work of our Maya colleagues!
Sincerely,
Michael J, Grofe, President
MAM