By K'anal Ajpub' Santiz (María Bertha Santiz Pérez)
First, our appreciation to the organization Maya Antiguo para los Mayas (MAM) for promoting and supporting with small grants the fulfillment of these activities of Ojer Tz'ib' [ancient writing]. With the grain of maize that has been planted now, we are sure to harvest maize of various colors from the teaching of Ojer Tz'ib'. Members of MAM, thank you very much for this contribution to the Tojolab'ales, which was very supportive and very important as it was of great interest to feel and experience a sense of our ancestors.
That is why I, K'anal Ajpub' (Bertha María Santíz Pérez), on behalf of the people of El Rosario Bahuitz extend our most sincere thanks to all those who struggle every day to share new knowledge (unfortunately many do not know their historical past) and in this way to reflect and raise awareness and regain ancestral history to all those interested, as an example to these children who are the future of tomorrow.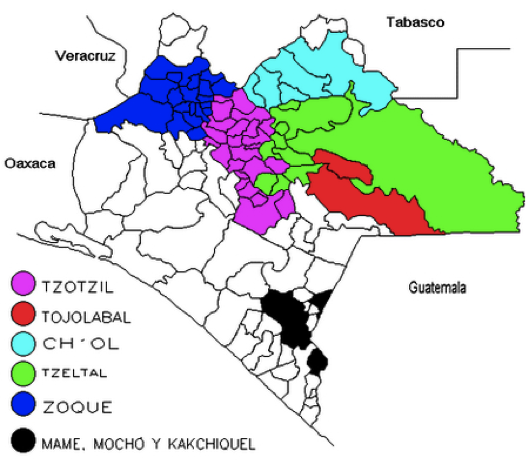 To orient our readers, here is a map of the Tojolabal region, red, on the Guatemala/Chiapas border.
The event took place on February 28, 2105, in the community of El Rosario Bahuitz (place of the hills), in the municipality of Las Margaritas, Chiapas, Mexico, with the students of the Escuela Telesecundario Emilio Rabasa Estebanell, where the commissary, in coordination with the committee padres de familia de la comunidad, very kindly gave thanks for bringing a new dynamic to the development of their children, for reclaiming their identity as Maya speakers by means of Ojer Tz'ib and language use in the community. Continue reading →