Our long-time friend and colleague has been recognized in his own country for his life-time achievements in strengthening Maya culture. We are proud to be part of this achievement. MAM (formerly Friends of the Maya) sponsored many visits by Crisanto to the Maya Meetings in Texas, and Crisanto was co-organizer of our hugely successful Congreso de Epigrafistas Mayas held in Valldolid, Yucatan, in 2012. Below are excerpts from the local press coverage of this event and links to read the entire articles.
MÉRIDA, Yucatán.- A través de una sesión solemne celebrada en el Congreso del Estado, el Lic. Crisanto Kumul Chan recibió de manos del Gobernador del Estado, Rolando Zapata Bello, el reconocimiento "Diputado Profesor Pánfilo Novelo Martín", que se otorga a hombres y mujeres por su destacado trabajo a favor y en defensa de la cultura maya.
Kumul Chan recordó que cuando inició en 1990 su acercamiento con temas relacionados con la matemática maya, los códices, el calendario y la escultura jeroglífica, irónicamente tuvo que estudiar con especialistas extranjeros.
La norteamericana Linda Schele (ya fallecida) y el alemán Nikolai Grube fueron sus maestros.
Ha participado como organizador de talleres en lengua maya en instancias como la  Universidad de Chicago; así como sobre escritura jeroglífica maya en el "The maya meetings at Texas."
En sus propias palabras, "Tengo la esperanza de que en este inicio del Bak'tun, de verdad se apoye y realicen acciones que fortalezcan a la Cultura Maya.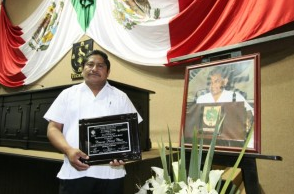 To read examples of the media coverage for this event, three links are provided here:
http://yucatan.com.mx/merida/la-cultura-maya-poco-apreciada-en-su-cuna#.UO-aV4h4mqY.email
http://yucatan.com.mx/merida/un-maestro-indigena-recibe-la-medalla-panfilo-novelo
http://clubcarmelita.com/2012/12/13/entregaran-medalla-panfilo-novelo-a-promotor-maya/